What is it about summer and its sweltering heat that has us longing to bake beachside in Italy or perched under a restaurant awning in SoHo with friends — an effervescent, bittersweet drink in hand?
Anyone would opt for ice water (and should) but there is something about a spritz that just feels right during these moments. It's a drink for celebrating the long days of the year. And so we should celebrate it.
The spritz has been around for more than a century, occupying various forms and evolutions. Its popularity still grows to this day. When we think of spritz cocktails, our mind immediately gravitates to Aperol. You can thank clever marketing for that. However, the cocktail has more humble beginnings.
What's an Aperol Spritz and Where Did It Originate?
The story begins in the 1800s in Veneto, Italy, when visiting Austro-Hungarians would add a splash "spritz" of soda water to the Italian wine to dilute it, making the bolder wines lighter and more palatable to their taste. Prosecco would later take the place of wine and Italians would add fortified wines and liqueurs such as amari to further enhance the cocktail.
Aperol, an orange-red liquor invented in 1919 by the Barbieri brothers in Padova, Italy became a popular ingredient during this time. But it was in the 1950s, with the Aperol Spritz (invented by the brothers themselves) that changed the course of history when it became a popular drink of choice for Italians and vacationing Europeans and Americans in the post-war era.
The drink would continue its march across the decades, winding its way to the household name it's become today.
What's Driving Aperol's Numbers Skyhigh?
Ever wondered how many Aperol Spritz cocktails get consumed daily? According to Campari, nearly 300,000 are consumed in a single day in the Veneto region of Italy alone! Multiply that across the world and the number gets dizzying.
Sales of Aperol alone were up 72 percent in Q1 of 2022, led by its core Italian market (up by 101.4 percent), Germany (up by 79.2 percent), the US (up by 51.2 percent), France (up by 79.5 percent) and the rest of Europe. So what's behind this growth?
It's two-fold: post-pandemic reopenings and marketing.
Bars and restaurants reopening from pandemic shutdowns certainly attributed to this boost in sales, especially those ordering in greater quantities to get ahead of encroaching inflationary price increases. The Campari Group's, Chief Executive Bob Kunze-Concewitz, told Reuters that stockpiling accounted for nearly half of the increase in sales.
However, as for the other reasons Aperol sales are up, Kunze-Concewitz told analysts: "We've seen the Campari Spritz and the Aperol Spritz go also into the meal occasion, brunch launch, informal dinner." These are all areas that lead to the next reason for its rise.
The Campari Group, which purchased Aperol in 2003 and owns its largest competitor, Campari, notes the "official Aperol Spritz" is made of three parts Cinzano Prosecco, two parts Aperol and one part soda water. This "official" recipe gave way to the wildly successful "3-2-1" campaign that can be directly contributed to Aperol's success today.
Although the end-of-day act of meeting up with friends for a spritz and a bite to eat has been customary in the Veneto region for decades, the campaign led to this practice spreading across the country, heavily resonating with younger audiences who could afford a more financially accessible social alternative accompanied with light snacks.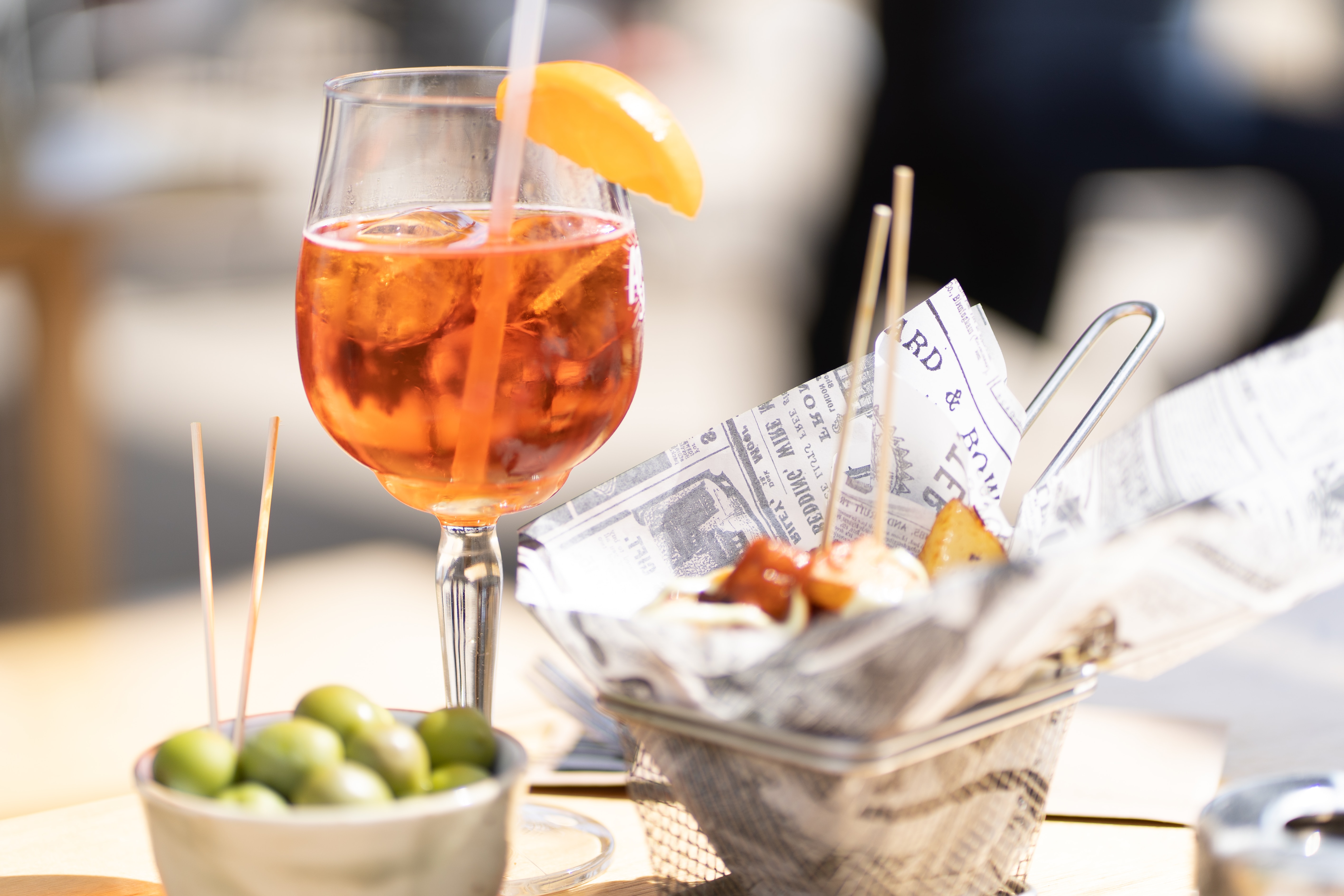 That simple act was catchy enough to take on around the world as the act has spread to other major cities, like New York City for example. A 2018 article from The New York Times attributed aggressive marketing to the "... Reason You're Drinking So Much Aperol Spritz," citing Melanie Batchelor, the vice president of marketing at Campari America, "We saw there was a growing interest in Aperol in the U.S., especially at summer events and destinations. We invested behind that."
It's true. From the Hamptons to Palm Springs, the group targeted wealthy beachgoers traveling from the city with free drinks to decorating social media influencers at summer festivals out west. And it worked. According to Nielsen, Aperol sales rose 48 percent that year.
But there's a third influencing factor to Aperol's boom in sales, too. That has to do with the shift in drinking habits among consumers. Alcohol consumers have become more health-conscious — a trend years in the making. Consumers are opting for drinks "lighter" in alcohol as well as in sugars, carbs and many of the other negative side effects long associated with beer and other spirits.
Whether anecdotal or defined in the data, the "drink of summer" is beloved by many across the U.S. and the world. The bitter, citrusy and effervescent cocktail is equal parts as delicious (some would argue otherwise) as it is refreshing. And on these increasingly warmer days ahead, a drink we can reach for to beat the heat wherever we are — at a Venento-café or a stoop in Brooklyn.
The "Official Aperol Spritz" Recipe
INGREDIENTS
3 Parts Cinzano Prosecco*
2 Parts Aperol
1 Part Soda Water
DIRECTIONS
Build in a wine glass.
Serve with large ice cubes for slow dilution.
Garnish with a slice of orange.
*Editor's note: Campari owns Cinzano; any dry prosecco will suffice.