Variety is the spice of life, and if your establishment is filled with the same old whiskey and vodka standards then your customers aren't going to have very much spice. A well-stocked bar/liquor store and one with plenty of spirit variety aren't mutually exclusive. Making sure you can service your customers with the ingredients to make classic cocktails, mix their personal favorites, as well as create something new and exciting is what every establishment should be focused on. There's something to be said for keeping up with new booze brands, but even if they aren't exactly new, it pays to keep a diverse collection on your bar rail.
Let's take a look at five spirits you can use to inject a little variety into your beverage program.
1. Tanteo Jalapeno Tequila

A spirit that's backed by a co-operative of 85+ agave farmers, this award-winning artisanal tequila is for those who like a little (or maybe a lot) of spice in their drink. Distilled and infused by hand in the hills of Jalisco, Mexico, Tanteo's Jalapeno Tequila features a higher proof Blanco and spicy jalapenos, adding a flavorful touch not just to Margaritas but any special cocktail.



Shop Tanteo Jalapeno Tequila on Provi
2. Banhez Mezcal Joven - Espadin & Barril

Making mezcal is honest work but it's hard work, too. Francisco Javier Perez Cruz knew that the heritage of mezcal was special but he devised a way to bring together hard-working families to create something not just special, but sustainable. His journey saw him become mayor of Ejutla, Mexico and president of the National Mezcal Council, before receiving federal funding to establish nurseries and reopen distilleries around Ejutla. The Banhez Cooperative now has 36 families backing it producing 8 different varieties of mezcal, including the Espadin & Barril. This spirit is mild and floral with sweet notes of pineapple and banana.
3. Mr. Black Cold Brew Coffee Liqueur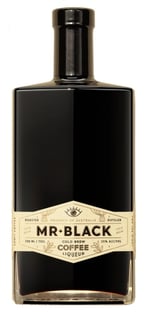 If you're looking for a nifty way to switch up Kahlua for something new, this is it! Mr. Black Cold Brew Coffee Liqueur is an Australian combination of specialty coffee, water, vodka and sugar that's both ethically sourced and vegan. And since it contains 25-40% of the caffeine found in a single espresso, it's the perfect pick-me-up when added to trendy cocktails, whether you want to start your day off right or have a warm and comforting after-dinner sipper. Hint: the Espresso Martini is making a comeback!
Shop Mr. Black Coffee Liqueur on Provi
4. Macallan Sherry Oak 12-30 Years

While it's a fact that Macallan is a well-established and well-known Scotch brand, what's perhaps a little less known is that the Sherry Oak varieties have seen a recent spike in sales on the Provi marketplace. Different cask maturations to give spirits a little extra zest isn't new, but the Macallan Sherry Oak of all different year vintages seems to be starting its own little trend. Each matured exclusively in hand-picked sherry seasoned oak casks, these Scotches deliver rich woody spices of dried fruits, with the older vintages giving a sweeter and warmer taste.
Shop Macallan Sherry Oak on Provi
5. Ford's Officers' Reserve Navy Strength Gin

To stay on the Sherry cask trend, let's look at this British Gin that uses the process to give their gin a little something extra. Sitting at 54.5% ABV, this slightly over-proofed spirit is done in the traditional navy strength style, giving an extra bite to the Amontillado, grapefruit, jasmine and juniper that are found throughout. It's the perfect blend of aromatic and complex, setting up a variety of cocktails or a glass sipped neat.