The trend of low- and no-ABV is catching fire across the beverage industry—from dive bars to home bars and everything in between—catering to more than just the niche category of designated drivers. This rising trend has brought about new brands, products and ways to approach the burgeoning interest in nonalcoholic beverages. Even Provi is proud to offer a growing collection of low- and no-ABV beverages for those in the industry.
To dive deeper into this booming category, we sat down with Lauren Chitwood, the CEO and co-founder of Spiritless—a premier nonalcoholic spirit brand offering their flagship bourbon product Kentucky 74—to discuss the company's beginnings and how this category can help retailers improve their bottom line.

So how did Chitwood get involved in this trend? "We were doing popups at festivals, doing influencer campaigns, you name it," says Chitwood, "...and it was in late 2018, early 2019, when we kept getting urgent last-minute requests from beverage managers requesting something nonalcoholic." The requests seemed broad but also specific: they didn't want water, tea, coffee, juice or soda, or really anything in a can. "They'd say, 'Could you call a celebrity mixologist and have them make us a tincture... for a thousand people...tomorrow?' So we'd say no, it doesn't work that way! [laughs]"
But Chitwood knew there was more to the request than met the eye. So they dove into the data to see why it was happening. It turns out 60% of Millennials and Gen Z'ers wanted to curb their alcohol consumption. "So no wonder these brand managers were so stressed," says Chitwood. "If liquid to lips is the goal, they're spending major money to make it so and almost half of the people attending their event might not even try the product. How do we keep the other half engaged? That's when we realized this market was ours to lose."
Given the numbers, it almost goes without saying that this is a market that bar owners and restaurateurs will want to keep in mind and woo within their own establishments.
"You're running a business, and businesses like money," laughs Chitwood. "There are so many opportunities to engage a patron in another round or offer an alternative to water. When we start having these conversations about the meaningful incremental income that establishments can gain from a nonalcoholic program, it's striking as to how much it improves the bottom line. It's just dollars and cents for great hospitality and inclusion."
You don't have to search hard to read about big name companies jumping on board with the nonalcoholic trend. In 2021, Heineken spent nearly half its US budget on their 0.0 beer. But after the heavy hitters, there are still tens of thousands of establishments across the US that stand to gain from implementing a nonalcoholic program. So what advice does Chitwood have for the local bar down the street trying to implement this into their menu?
"Don't bury the lede!" Chitwood proclaims. "Menu placement is everything. Customers have been skipping over the soda menu so putting these items in the "have not" section is a poor execution. There's so much opportunity to incorporate nonalcoholic products into the core cocktail menu."
But marketing is only one side of it.
"Education is the biggest piece of the puzzle. There are lots of people who sit out a round or order a spacer, or just have work to do tomorrow so they leave. But they would have loved to stay and finish their meeting. So a bar being able to educate a consumer by seeing that and saying 'Hey, we've got something for you!' is huge."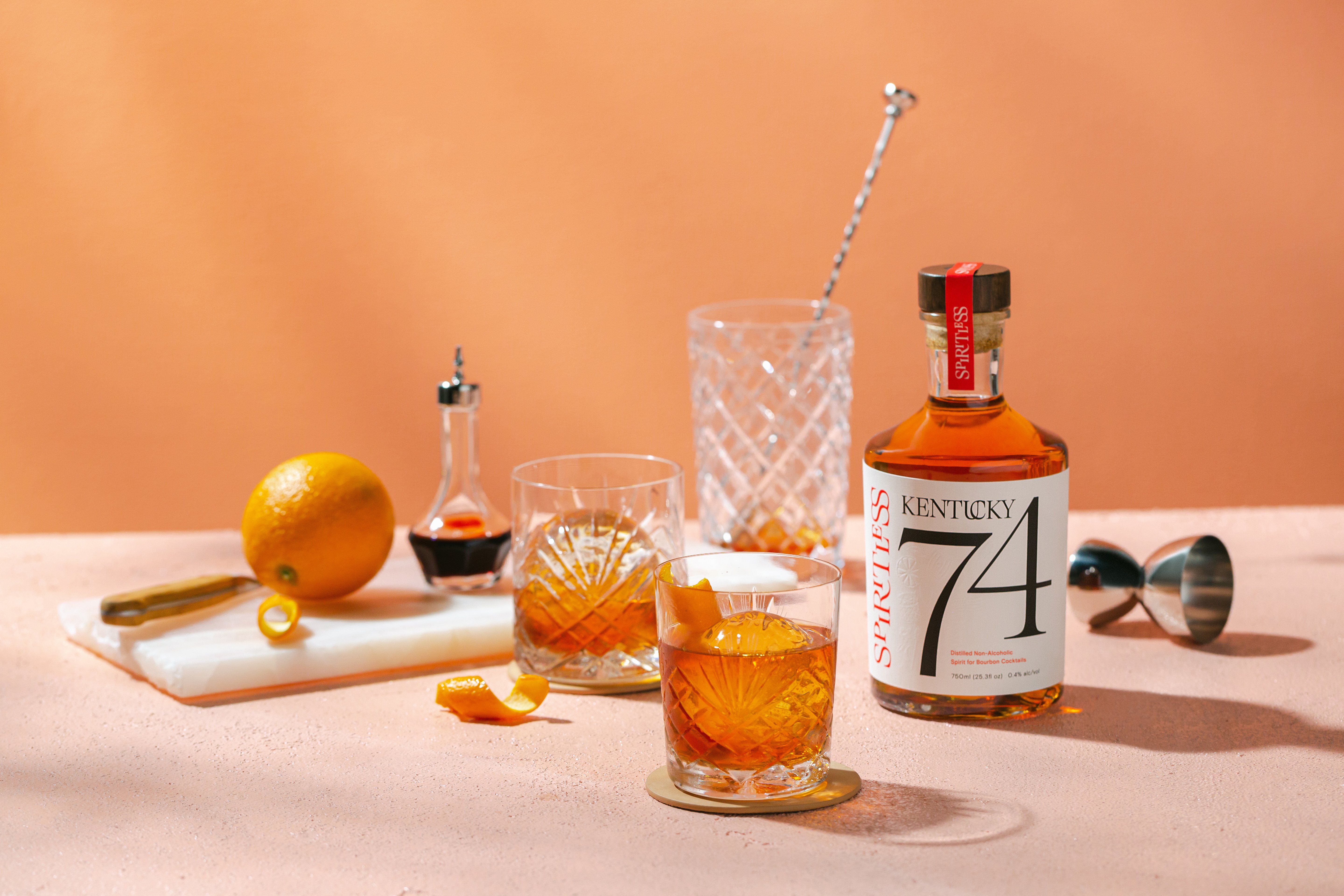 So what is that makes Kentucky 74 unique in this growing category?
"We started in my basement, believe it or not, in a popcorn tin that was waist-high with a commercial sous vide that went down into the pot that we connected to a PVC pipe and a sump pump and a cooler. We were trying to buy Old Forester in bulk—we are Louisville girls, gotta support our Brown-Forman fam—and de-alcoholize it. I will tell you things went terribly, but we learned lessons and discovered our hypothesis. Our a-ha moment was to make our own starter that was strong enough and robust enough to withstand the de-alcoholize process. This allows us to make a really superior liquid."
It's clear from Chitwood's passion and the data around the nonalcoholic spirit category that we're entering a new frontier of the beverage industry. A lot of people would have said we were in a cocktail renaissance in the early 2000s, but there's no question that things are still evolving.
Are you interested in adding low- and no-abv products to your bar's beverage program? Browse Provi's listing of nonalcoholic wine, spirits and beer.