Aperitivos (or aperitifs if you're in France) are the subcategory names attributed to the bitter, rose-hued pre-dinner liqueur. Made from a bouquet of herbs, spices and fruits, these infused liqueurs are typically produced with lower-ABV distillates or aromatized and fortified wines. The category's flavor profile can be expansive, spanning from bittersweet to botanical, making it a highly versatile product that covers all areas of consumers' tastes.
Legacy aperitivo brands like Aperol and Campari are world-renowned breadwinners, having been stocked on back bars for generations. They're also the bedrock for many of the world's most popular cocktails—the Aperol Spritz, the Negroni and the Americano, to name a few.
And if you haven't been paying attention to drink trends in the last five years, you might be surprised to find out that aperitivos are having a profound moment. With the cultural rise of drink trends like the Aperol Spritz, aperitivo sales have trended upward as well. Despite pandemic woes, the aperitivo's average GMV on Provi has rebounded to pre-pandemic highs. What's driving the category's rise? It's not just legacy brands leading the pack. New brands have hit the market, and with them, have lifted the beloved bitter category to new heights. To find out what's driving the birth of new aperitivo brands, we must first visit where it all started.
Aperitivo: From Milanese Pre-Meal Ritual to Cultural Colossus
It all starts in Italy — northern Italy to be exact.
Rewind to 18th-century Piedmont, it's there that aperitivo culture is believed to have first started when King Vittorio Emanuel II sought spiced white wine (vermouth) as his pre-dinner drink.
Ever since then, at around sunset, Italians flock to restaurants and bars to have an aperitivo before diving into dinner. The process of "aperitivo hour" includes small snacks, called Cicchetti, that accompany bittersweet libations like a spritz or Negroni. Even the word itself derives from the Italian verb aprire, "to open."
For well over a century, new aperitivo products have been introduced in the market, adding to consumers growing taste for it. Fruit-forward brands like Aperol work particularly well when paired with prosecco while more bitter brands like Campari pair best with gin and sweet vermouth. More and more products have found their place in between these two iconic brands, taking their share of the market however small (as of July 2022, Aperol and Campari own more than 70% of aperitivo's market share in the Provi marketplace).
Now, aperitivo hour isn't just confined to Italian cafes, bars and restaurants, it's now a worldwide cultural export. It's gained ground in the United States in the last few years. From aprés-ski to sultry NYC summer Aperol spritzing, aperitivos lead the current drinking culture. Because of this, new brands have popped up at rapid rates. Let's take a look at some of the hand-crafted brands taking the aperitivo/aperitif category to new heights.
Best New Aperitivo Brands In The Market
Forthave Red Aperitivo

Founded in 2013 by Daniel de la Nuez and Aaron Fox out of their home kitchen, Forthave Spirits is a celebrated Brooklyn-based distillery focusing on hand-crafted botanical spirits such as amaros, digestifs, aperitifs and gin. This bittersweet aperitivo named RED is infused with 13 botanicals including orange, chamomile and rose. What sets Forthave Spirits apart from others is their dedication to using only plant-based ingredients in their spirits, eliminating artificial filtering agents and colors. At 24% ABV (48 proof), this lovely aperitivo is a perfect substitute for Campari in a Negroni and shines on its own on the rocks or in a spritz.

Faccia Brutto Aperitivo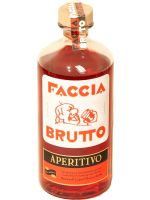 Using old-world methods and sourcing sustainable producers for their products, Brooklyn-based Faccia Brutto makes delicious organic Italian spirits with a focus on quality and attention to detail. Its ruby-red aperitivo is a herbaceous and citrus-forward take on the bittersweet category. It's distilled using 17 botanicals including gentian root, kola nut, hibiscus and a plethora of oranges (2 oranges per bottle!). In place of using artificial coloring, the producer uses cochineal to obtain that classic ruby-red hue, a traditional method that's been abandoned by legacy producers for decades.
Okar Bitter Island Liqueur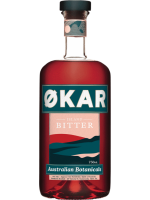 Okar is handcrafted by winemakers turned distillers Laura and Brendan Carter. Although Okar frequently uses the term amaro, the liqueur works perfectly as a substitute for Campari in a Negroni or Spritz. Cherry red in color, Okar Bitter Island Liqueur is made from botanicals native to the coastal rainforests of Australia such as native riberries, fresh Davidson plums and aromatic strawberry gum leaves. Fruit and herbal tea notes are balanced by a bitter assortment of blackberry, mint, thyme and citrus.
Leopold Bros. Aperitivo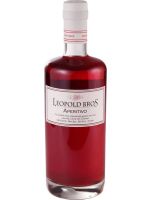 First released in 2015, Leopold Bros. Aperitivo is the American brand's take on the Italiabitter aperitivi category. Distilled and bottled in Colorado, Leopold Bros. Aperitivo contains hints of sarsaparilla and hyssop which tantalizes the olfactory senses. The craft brand pays close attention to utilizing the best local ingredients, including Colorado-grown gains. The distillery uses a centuries-old process called floor malting making it one of only a handful of distilleries in the nation doing so. Leopold Bros. Apertivo makes an excellent pre-dinner drink on the rocks or as a Campari substitute in a cocktail.