In many ways, it shouldn't come as a surprise that England's southern vineyards are producing incredibly complex and delicious sparkling wines. As more wine regions emerge from the shadow of major regions like Napa Valley, Bordeaux and Tuscany, so are the fruits of their labor. It's refreshing to see wine regions like southern England further diversify and prove they can produce award-winning and age-worthy wines, cementing their place in the top tier of the wine world. It's a storied history in the making.
Vineyards in England? A brief history of English viticulture
Winemaking in England dates back as early as 43 B.C when Romans brought vines and wine production to Britain during Claudius's conquest of the British Isles. However, due to proximity and strong trade links with France and Italy, importation was easier and preferred over the tedious cultivation and production of local wine.
Through the centuries, the English have flirted with wine production with mixed success. The eighteenth and nineteenth centuries saw a rise in wine production by botanists and noblemen but largely ceased with the ease of import taxes and embrace of free trade by Lord Palmerston in 1860. Superior wines from France, Spain, Italy and Germany outcompeted native wines and could be obtained at much lower costs. With changing tastes toward the end of the nineteenth century and the outbreak of the First World War decades later, wine production in England all but stopped.
It wasn't until the mid-twentieth century that wine production would resume in England. George Ordish, an entomologist and economist by training, returned to his native Kent after working as an entomologist in the Champagne region in France. He was struck by the similarities in climate and landscape between his home county and the Champagne region. Subsequent research and the publication of his book, Wine Growing in England in 1953, would inspire other pioneers like Ray Barrington Brock, to bring English wine-making back into action.
The first commercial vineyard was planted at Hambledon in Hampshire in 1952, marking a new chapter in England's wine-making history and kicking off decades of pioneering vintners. Today, there are more than 800 commercial vineyards and 165 wineries in the U.K., proving that English wine is flourishing.
How English vineyards produce sparkling wines that stand up to Champagne
Globally, England's sparkling wine sector is tiny. IWSR Drinks Market Analysis reports that sparkling wine produced in the U.K. represents about 0.2% of the total global sparkling wine volume. However, sales of U.K.-produced sparkling wine are growing, rising 11% from 2015-2020, according to the report. Jonathan White, spokesman for British wine producer Gusbourne told Bloomberg that today, "there's a collective of maybe 10 to 20 producers that are making really excellent wines," whereas "10 years ago, there were only two or three wines which might have been known outside of the U.K. or certainly recognized by wine critics."
English sparkling wine made its name in 1998 when Nyetimber won best sparkling wine in the world at the International Wine and Spirits Competition, putting English sparkling wine on the map and establishing its place in the wine world. Now, even more accolades are coming in. In 2020, English sparkling wines did what none have done before: outcompete wines from Champagne. English producers, Roebuck Estate in West Sussex and Simpsons from Kent, each won the prestigious accolade of best in show for a sparkling wine and a still white wine at the Decanter World Wine Awards.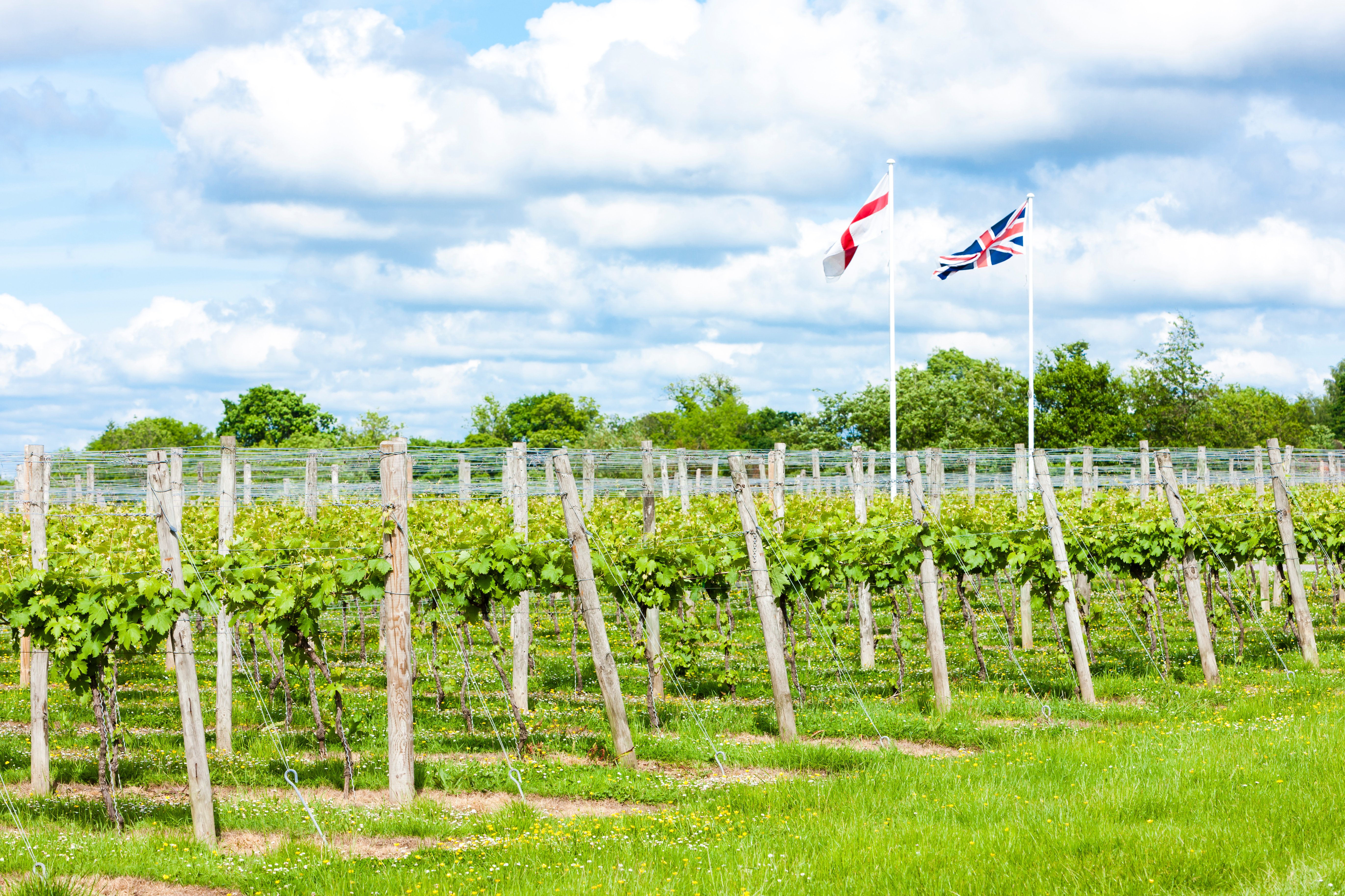 A vineyard near Lamberhurst, Kent, England
It's easy to compare southern England with Champagne. Pinot Noir, Chardonnay, and Pinot Meunier thrive in the chalky soils of southern England just as they do in France's Champagne region. The difference, however, is that growing these premium varietals in England comes with its challenges. While many of England's top vineyards fall along a latitude of 51 degrees, just 2 degrees north of Champagne, ripening becomes difficult with the cooler climate. And although warming temperatures brought on by climate change are seen as a potential advantage for the region's vineyards, the country is very wet, which makes rot and Botrytis a pesky problem against quality and yield.
However, English sparkling wines also benefit from this wet and cool climate due to their position north of Champagne. Anne McHale, a certified master of wine in London, told Fortune magazine about the unique charm that English wines have compared to those of Champagne. "It's cooler. And as a result, you get a higher level of acidity in the grapes, which then translates into more of a sort of mouth-watering bite of crispness and freshness in the wine." White from Gusbourne adds that "English wines have a much more sort of steely, citrus backbone to them," while the wines of Champagne often have a toasty richness, the consequence of a slightly warmer climate.
With the growing clout around English sparkling wine, expect to see more British-made "fizz" on wine menus around the world. Let's take a look at three top-selling English wines on Provi.
3 Renowned English Sparkling Wines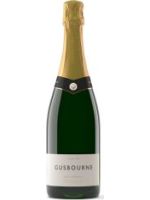 Gusbourne Brut Reserve
Gusbourne's Brut Reserve is the most robust expression of who the winery is and what they believe. Made from a blend of Chardonnay, Pinot Noir and Pinot Meunier, this best-selling sparkling wine is bright gold in color and highlights red fruit aromas of cherry and strawberry, which then develop into attractive fresh pastry notes with a touch of cinnamon and spice. The palate is clean and fresh, derived from a bright streak of citrus fruit and displays tones of soft stone fruit and a long, refreshing finish.
Chapel Down Classic Brut
Chapel Down's best-selling and award-winning English sparkling wine, Brut NV is a classic combination of Chardonnay, Pinot Noir, Pinot Meunier and Pinot Blanc. The nose contains aromas of red apple, lemongrass and freshly baked bread which together with hints of strawberry and quince on the palate combine perfectly with fine persistent bubbles. At 12% ABV, it's great as an aperitif or paired with the quintessentially English dish, Fish and Chips.
Digby Fine English Brut (NV)



Vibrant yet understated, Digby Fine English Brut (NV) is "in its element at home on a Tuesday evening or at a party celebrating one of life's big moments." It's an engaging expression of Digby's house style and stems from luscious Pinot Noir culminating with rich, aged Chardonnay and plummy Pinot Meunier. Scoring Platinum 97 points at the Decanter World Wine Awards in 2019, Digby is the official sparkling wine producer for Leander Club, a highly decorated and elite rowing club.