Do you hear that? It's the sound of vitamin D deficient patrons emerging from their coronavirus hibernation dens, desperate to soak up some sun on your sweet, sweet patio space. No doubt, patio season will be different this year. But nonetheless, patio season is patio season, and this year bars and restaurants are hard-pressed to make the best of it, damnit.

With that said, today we're focusing on a few, easy restaurant patio ideas you can implement to drive more traffic. So, without further ado, welcome to the season of Al-fresco everything.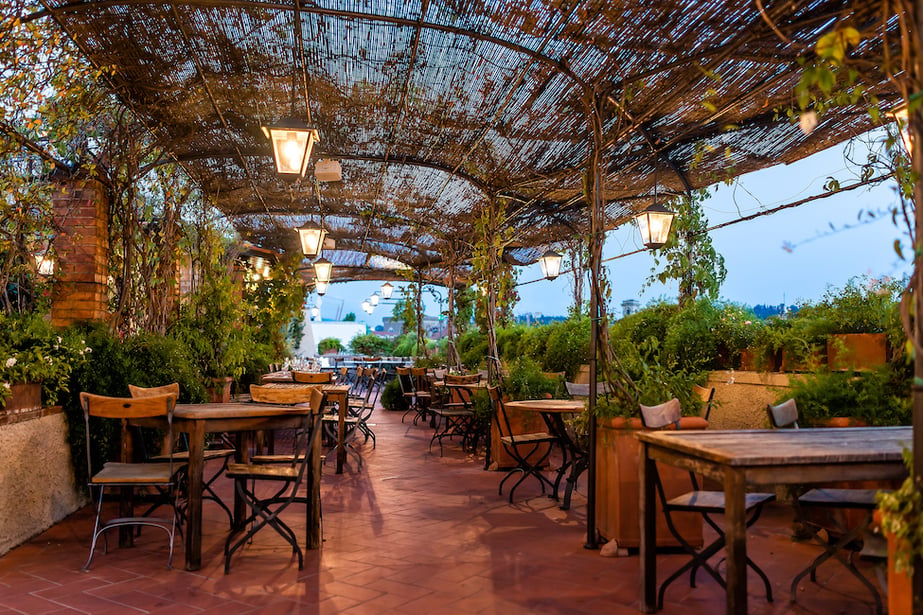 How to Amplify your Patio Ambience
Whether your patio is occupying a strip of sidewalk or posted up in a side alley, there are many, simple things you can do to make it a truly unique space of its own. For instance, does your patio allow dogs? If not, now might be the time to consider. You would be opening your audience up to the 37-47% of American households with canine companions. And just in case you're seriously considering, there are currently 17 states that allow dogs in outdoor patio-areas of restaurants by either state law or through administrative regulation.
Upscale Philadelphia bistro, Rogue, sees a higher volume of pet-owning customers thanks to their centralized location on Rittenhouse Square. Fact is, nothing is going to attract patrons to your patio in the thick of summer quite like a dog-friendly patio and endless beers.
If that's not an option for you, there are other ways to "up" the overall ambiance of your patio space. Publication Restaurant Development + Design, stresses that "visibility from outside the restaurant is important to enticing potential guests and building your business." So do just that. Entice 'em from far away with colorful canopies, eye-catching umbrellas and twinkling lights. Strategically place hardy outdoor plants like leafy palms and planters overflowing with brightly colored flowers.

While you're at it, break up the silence with some ambient music. And if that's not innovative enough for you, projecting a classic movie makes for the perfect backdrop and could make for a fun patio promotion idea. Aim to make your outdoor space a much-needed place of escapism for your patrons. Heaven? Who needs it when there's your patio.


Kick your Beverage Program up a Notch
Arguably the best part of patio season is the ability to reinvent your menu with seasonal specials. There are many profitable bar drinks you can make as an easy way to increase your average profit margin. Take this as an opportunity to kick your beverage program up a notch. Make your cocktails so attractive that patrons want to try them as they walk by, and the bar across the street is jealous that their drinks aren't as cool.
When it comes to crafting the perfect patio sipper, it's all about the visuals. (Now closed) Bottlefork Bar and Kitchen in Chicago's River North neighborhood served up a cocktail with a side of comedy. Their drink, Bill Brasky, is aptly named after a Saturday Night Live character and came with a huge ice cube frozen around a vintage playing card.
But eye-catching doesn't necessarily have to mean complicated. Include a healthy mixture of fresh ingredients such as cucumber, melon and strawberry. These fruits pair easily with most spirits, and not to mention, make an excellent garnish. If you really want to wow your patio patrons, consider planting mint or rosemary outside—herbs that double as a pretty visual element as well as a timeless cocktail ingredient.
And if you really want to take your patio space to the next level? Consider implementing a full-service patio bar. It can be as simple as creating a designated space to pour craft beer and chilled rose. Put your bartenders in the spotlight while simultaneously boosting sales and encouraging guests to stay for just one more.


Think Outside of the Box when all you have is.. Well, a Box
So, maybe you're lacking in patio space. That's OK! Think outside the box that's limiting you. Are you next to a parking lot? An Alley? What's the back of your restaurant look like? From Germany to Georgia, restaurants across the world are getting inventive with their outdoor dining spaces.

Popular Connecticut eatery, the Chowder Pot, has never offered outdoor seating… until now. Owner Dennis Longo is looking forward to adding about 30 tables in front of his building, taking advantage of the new, relaxed regulations. Longo, like many others, are spilling their patio spaces onto the streets thanks to state-by-state mandated closures.

Maybe you're thinking, how can I rely on my patio when I can't rely on the weather? Take a queue from Minnesota-based restaurant group Craft and Crew Hospitality Inc.—they're posting up tents in their restaurant parking lots so patio guests can continue dining in case of inclement weather.

The point is, it's possible to make do with what you have. And at the end of the day, we understand that opening your patio is not the same as operating at full capacity. But it most certainly is a proverbial beacon of light at the end of this long and dark tunnel.