The holidays are coming, so bars and restaurants must prepare to entice their customers with seasonal cocktails. These drinks will help get people in the mood to sit around, spend time with friends, and spend money in your establishment. Yet, your business mustn't load up on obscure ingredients that you'll never use again. You have to balance profits with the right holiday spirits, and we'll show you how to do it! Today we're diving into a few profitable holiday cocktail ideas.
Before we get into the recipes, you have to understand what makes a cocktail profitable. That is aside from the base economics of spending less and earning more of a profit on a drink. Consider the following elements to ensure your cocktails are profitable for this time of year.
Ingredients That are Inexpensive
Do not read this as "buy cheap liquor to use in your drinks." Instead, read this as "make cocktails that do not all require top-shelf liquor to taste good." Look for ingredients that strike the right balance between seasonal flavors and common use within your bar's setting. Talk to your experts (the bartenders) about the flavor profiles and costs of liquors such as rum, wines, and more.
Ingredients That you Already Have
Another great way that you can make a tasty cocktail and remain profitable this season is by trying to use the ingredients you already have. See what liquors you buy frequently for your regular guests or promotions and integrate them into the cocktails that you make for this time of year. That should help you be more mindful of the costs of liquor and ensure you're using every bottle to the last drop.
Drinks Can't be Time-Consuming to Make
When you have a new line of drinks on the menu, you need to consider the costs of making the drink outside of the ingredients. Does the drink require a lot of preparation? Will it pull away from your bartender's attention for more than a minute? If so, then it might not be the drink you want to serve on a very busy night, or else you'll lose money. After you set your list of holiday cocktails, run through it again with the bartenders to ensure that it won't take too long to make.
Seasonal Products Sourced from Current Vendors
Lastly, if possible, don't try to pick up new vendors just for the holidays. Use your current vendors to help secure the liquor or ingredients that you need to make each cocktail. That will save you money on deliveries and maintain your business relationships.
Work with Seasonal Flavors
Now that we're looking at specific cocktails, you should remember that flavors and smells can be integrated into the liquor, mixers, and garnishes. Specifically, you'll want to have bold holiday flavors that people relate to the holiday itself. For example, your bar should stock plenty of flavors like:
Pumpkin
Peppermint
Cinnamon
Nutmeg
Integrating these flavors will make your bar or restaurant smell great and get your patrons in the mood for the holidays.
Profitable Holiday Cocktail Ideas
It's time to start looking at profitable cocktail ideas. These concepts will be considered profitable if they meet some of these criteria:
Use ingredients you have on-hand
Have a favorable markup
Can be made with middle-shelf liquor
Have a short prep time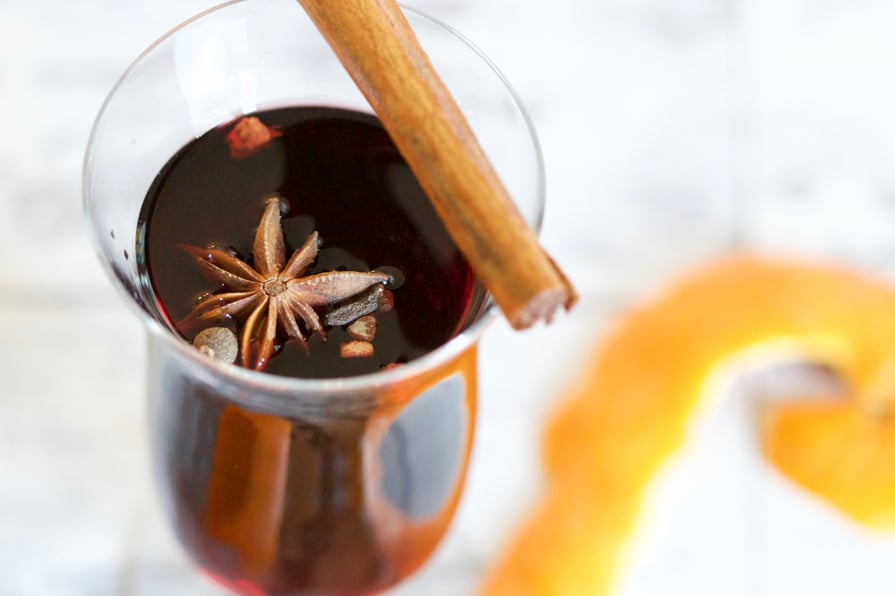 Mulled Wine
You combine all these ingredients, warm them in a pot until the sugar dissolves away, put it in a cup, and serve it warm. The prep time is long, but you can make batches of it, you can mark it up. As an added bonus, this drink will make the bar smell great and create ambiance.
1/2 Bottle Red Wine
2oz Bourbon
1-2 Star Anise Pods
A bit of Lemon or Orange Peel
1tsp Sugar
Garnish with Cinnamon Stick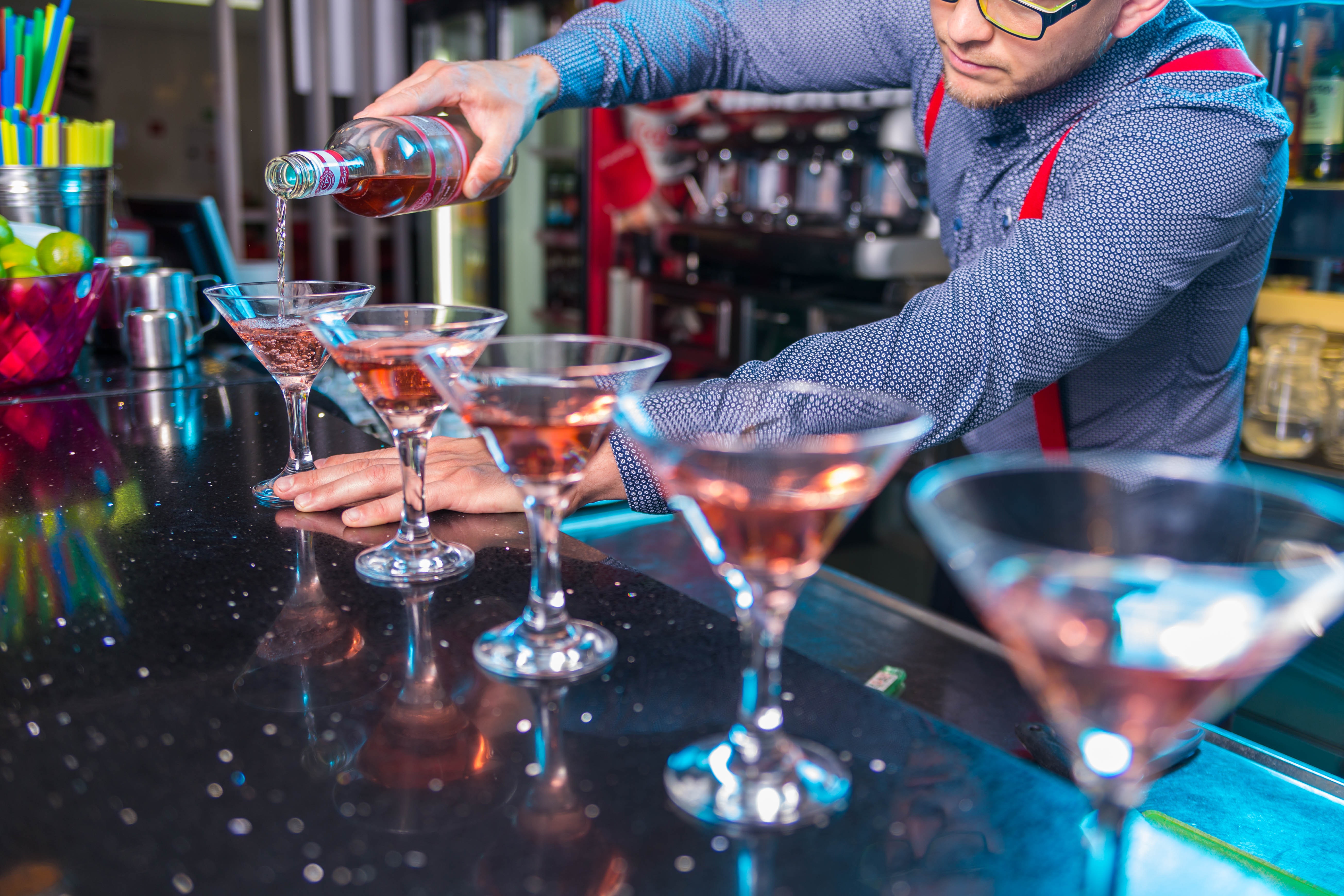 Peppermint Martini
This simple cocktail requires that you fill up a cocktail shake with ice, add the ingredients over the ice, shake it out, and then finish by straining it into a martini glass. If you want to get really fancy with this, then consider garnishing the rim with crushed candy canes or adding one into the drink directly. Best of all, most of these ingredients are probably behind the bar right now:
5oz Vanilla-Flavored Vodka
2ox Creme de Menthe (Preferably white)
1/2oz Peppermint Schnapps

Classic Eggnog
All the ingredients except for the cinnamon stick go into a blender and then get served in a martini glass. You can line the rim with white sugar for a great look and then garnish the drink with a cinnamon stick. Eggnog is very cheap, you can mark up this drink, and your bar probably has the majority of the ingredients on-hand save for the ice cream. If you're short on ice cream, you can always add one more cup of eggnog instead.
2 Cups Prepared Eggnog (chilled)
1/2 Cup Brandy
1/2 Cup Amaretto Liqueur
1tsp Ground Nutmeg
2 Small Scoops of Vanilla Ice Cream
Garnish with a Cinnamon Stick

Don't Forget about Mead
Mix two parts mead to one part of whiskey, pour it into a cup with ice, add a squeeze of lime, and then finish it with a lime garnish if you want. This is cheap, simple, and adds mead to the menu for many other holiday cocktails.
Honey Whiskey
Ginger Mead
Lime

Winter Party Punch
You can mix this up in a large tankard and then add orange slices to the mix for garnish. It makes a lot of liquid, it's simple to make, and the markup is nice.
1 Bottle Sparkling Cider
1 Liter Ginger Ale
2 Cups Cranberry Juice
1/4 Cup Fresh Lemon Juice
12oz Plain Vodka
There are many different holiday cocktails that you can create during the coming holiday season. You just have to be sure to follow the rules and tips established here to get the best outcomes for your bar. You don't have to go out of your way to be fancy, either. You'll find that many of the ingredients are waiting at your bar right now. Play around with the recipes and see what works best for you!