With the holiday season upon us, bars and restaurants can capitalize on the influx of consumers celebrating the season's festivities. The key to maximizing holiday season revenue starts with strategic planning and execution across holiday marketing campaigns, seasonal promotions and special events. But how? We put together a list of ways bars and restaurants can boost holiday profits and brand awareness over the holidays.
Turn Your Bar or Restaurant into a Festive Holiday Experience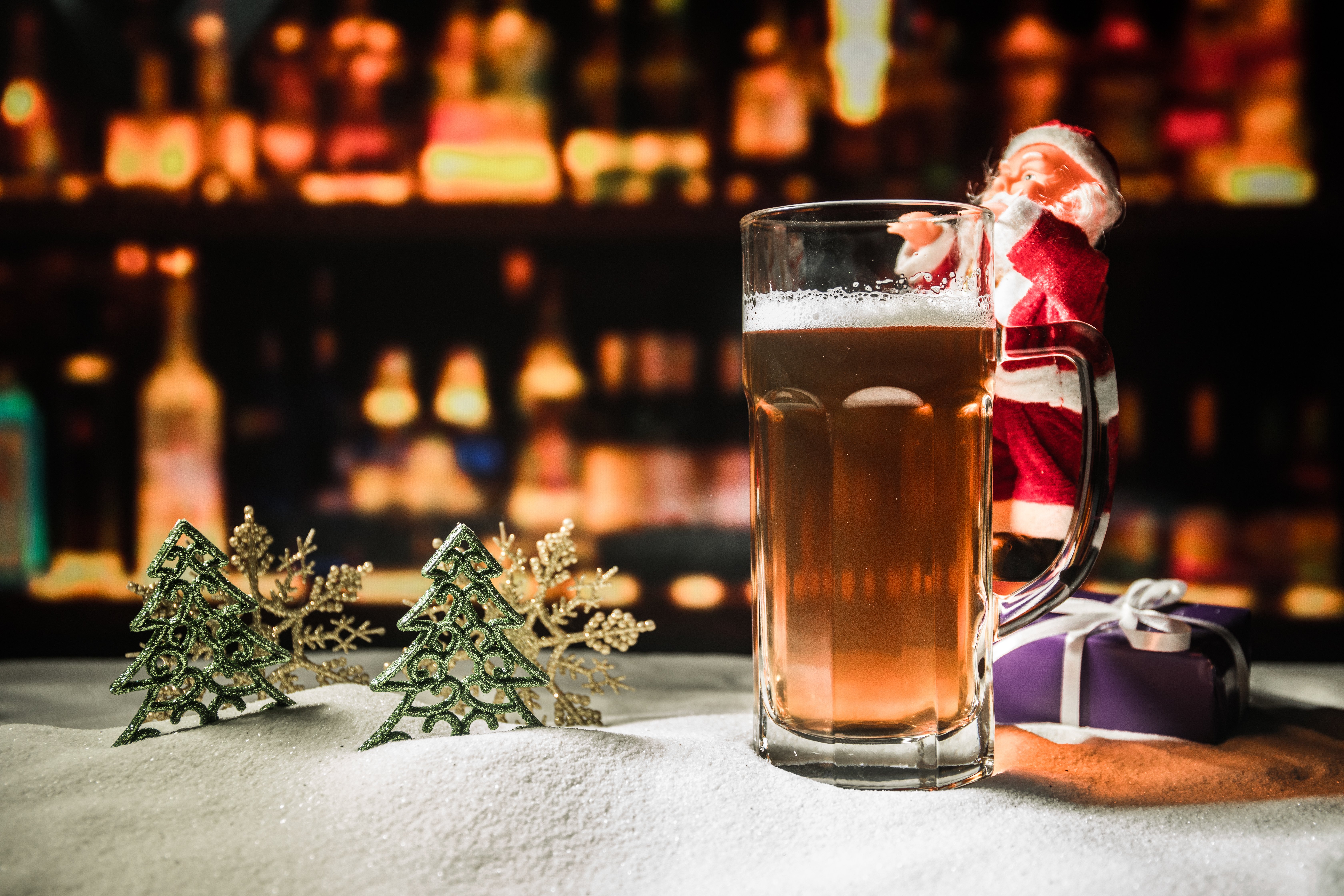 Bar-goers are looking for unique and memorable experiences. Transport them to a winter wonderland by turning your bar or restaurant into a festive holiday environment. Legendary New York City Irish pub, The Dead Rabbit, turned its taproom into a festive pop-up featuring seasonal cocktails and snacks, nostalgic over-the-top decorations and paired it all with a curated Christmas soundtrack.
Similarly, Rudolph's Holiday Rooftop at Chicago's LondonHouse is a seasonal pop-up that features festive menu items, private igloos, holiday décor, and sweeping views of The Windy City.
Creating a festive holiday environment drives revelers from all over to experience a fun holiday night out and keeps them coming back year after year.
Get Festive With Menus — Create a Special Holiday Cocktail Menu
Even if you don't opt to transform your space into a holiday paradise, you can create holiday-themed menus to match the season. A fresh menu change excites both regulars and newcomers looking for a fun, seasonal cocktail or two. Easy go-to drinks include eggnog variations, hot toddies and cocktails with comforting baking spice ingredients and flavors.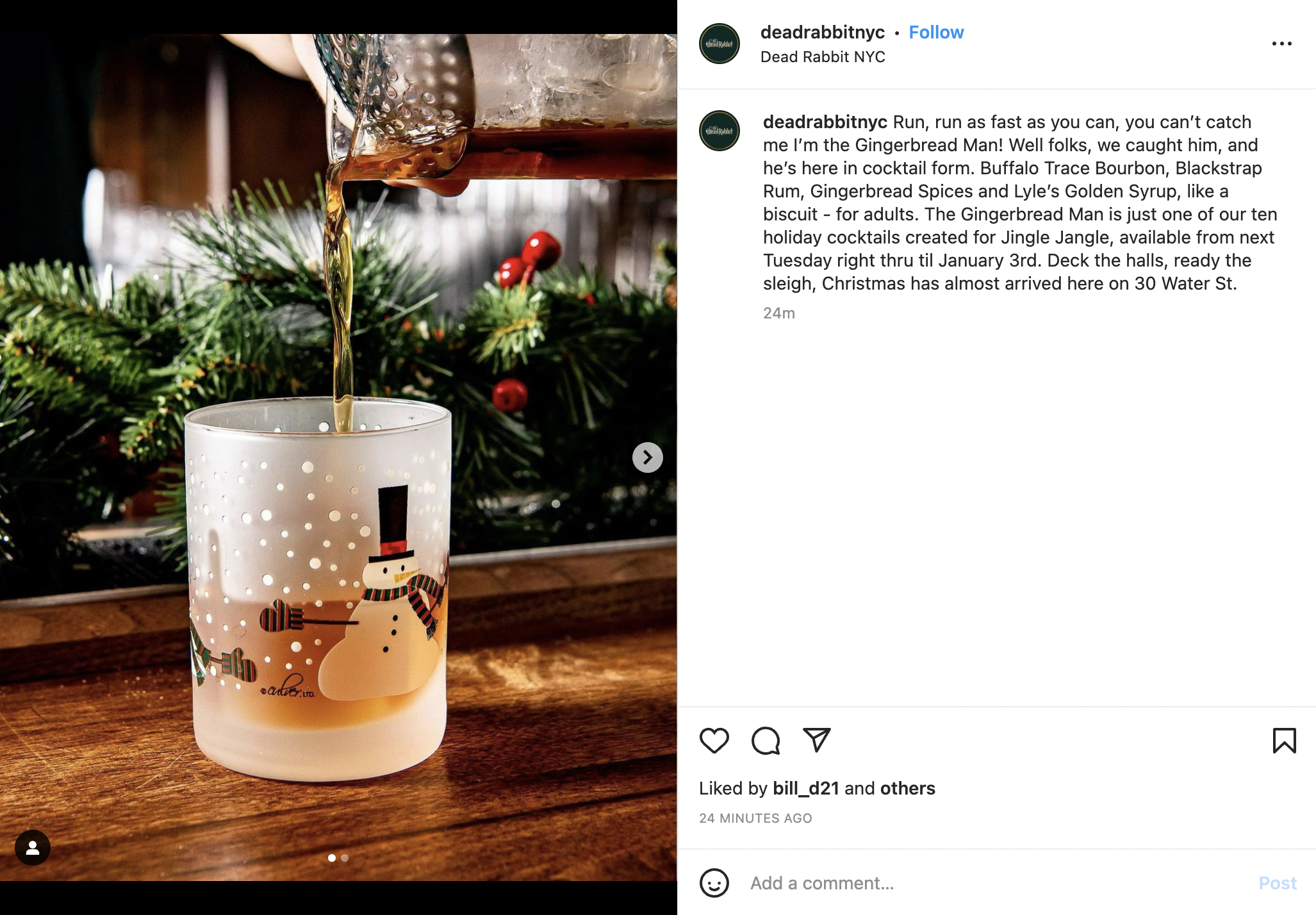 The Dead Rabbit promotes its festive cocktails on Instagram
As with any cocktail menu change, proper planning is key to a successful launch. When planning your festive holiday menus:
Remember to keep your audience and bar type in mind
Consider the optimal amount of drinks that will go on your menu
Ensure that your entire menu is designed for profitability (download Provi's profitability calculator here!)
Use menu design best practices like The Golden Triangle and Flavor Matrixes
Get creative with cocktail names and write enticing drink descriptions
Explore fun, festive ways to package your menu, whether it's a physical menu or digital
Download The Provi Guide to Building a Better Cocktail Menu
Batch and Sell Special Cocktails as Holiday Gifts
Why end at creating a holiday-themed pop-up or menu? Allow guests to take the festive spirit home with them by batching, bottling and selling holiday cocktails. Whether to enjoy themselves or gift to friends and family, bottled cocktails are a great way to extend your bar's offerings and brand beyond the brick-and-mortar. Plus, a little extra revenue never hurts. Opening new sales channels ensure a healthier bottom line. Just keep in mind your city or state's laws on selling alcohol to-go beforehand.
Promote Your Holiday Efforts Across Your Marketing Channels
Holiday pop-ups or festive cocktail menus are more successful if promoted. After all, why go through the laborious effort only to land with a dud? Leverage your established audiences and marketing channels to get the word out about your holiday specials. The more you promote, the more success you'll have. Here are a few ways to market and promote your holiday offerings.
Download Provi's Marketing Guide for Bars and Restaurants
Send Marketing Emails to Your Subscribers
Leverage your email subscriber base and send marketing emails promoting your holiday festivities. Whether it's Christmas dinner specials, a holiday-themed pop-up, or a festive cocktail menu, updating your most loyal customers via email will drive good business your way.
Promote Across Your Social Media Channels
Social media channels like Instagram and Facebook are excellent ways to build brand awareness and obtain new customers. It's also great for updating those who already follow you. Promote your holiday festivities across your social channels to drive new customers and keep your fans coming back for more.
Keep Your Customers In The Loop by Updating Your Website
Did you know that 77% of people check a bar or restaurant's website before deciding to visit? Capture curious customers by keeping your website updated with the latest holiday happenings at your bar or restaurant. And of course, update any important information like hours, modes of contact and links to reservation platforms to capture new and returning customers.
Keep It Old School — Hand Out Promotional Flyers
Sometimes the tried and true methods of promotion work best. Even if you're already advertising across social media, sending marketing emails and updating your website with the latest happenings at your bar and restaurant, don't rule out distributing promotional flyers from your brick-and-mortar. Include them in takeout (if your restaurant offers it) or include them with customer's checks. It's easy, affordable and it works.
Never Forget The Power of Word of Mouth
Last, remember the power of word-of-mouth promotion. Make sure your staff is communicating your holiday specials and offerings to guests as much as possible. If it piques a customer's interest, they're more likely to tell their friends and family about it and bring them along to partake in the holiday fun.
Stock Up Well Ahead of the Season
Before you get to planning your holiday offerings, make sure your bar is fully stocked with all of the essentials you'll need to pull off a special occasion. Provi's inventory spreadsheet is a great way to organize your inventory lists and streamline your beverage ordering.