Apple brandy and its European cousin, Calvados, have a rich and storied history dating back hundreds of years. Cider eau-de-vie — or Calvados — was first distilled in France as far back as 1553, when the first written reference to cider distillation was found in a manuscript written by Gilles de Gouberville, a gentleman from Cotentin — although the process was likely already being used by local farmers throughout the Normandy region. The apple and the process of fermentation would make its way across the Atlantic shortly after and become a staple commodity of the new world.
In American history, apple brandy has played a significant part. It's even been distilled by the nation's founding father, George Washington himself. It also bred America's first licensed commercial distillery, Laird's, established in 1780, which solely produces apple spirits and is the country's longest-operating distillery to this day.
Apple brandy is the perfect spirit for mixing in imaginative cocktails or serving neat or on the rocks as an after-dinner drink. Let's take a look at these five must-have apple brandies to stock on your shelves.
Shop Apple Brandy and Calvados on Provi
Copper & Kings American Apple Brandy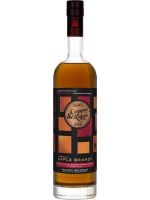 This apple brandy from Kentucky's Copper & King distillery starts in the orchard, where apple wine is fermented and sourced from Michigan and is selected for its fresh, crisp, high acid, and highly aromatic character. It's then exclusively copper pot-distilled and non-chill-filtered and finished in Kentucky Bourbon and New American Oak barrels. The distillery's ambition is to retain the integrity of the distillate with minimal intervention, adding zero artificial essences, coloring or boisé (oak flavor or infusion). Copper & Kings American Apple Brandy is best enjoyed on the rocks, with a favorite premium mixer or in the composition of inventive cocktails.
Region: Kentucky
Country: United States
ABV: 46%
Shop Copper & Kings American Apple Brandy on Provi
Laird's Old Apple Brandy 7 ½ Year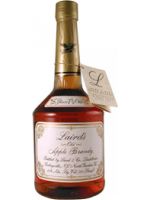 Introduced in 1964 to commemorate New Jersey's 300th anniversary, Laird's Old Apple Brandy 7 ½ Year is a 100% straight apple brandy aged for 7 ½ years and then bottled at 80 proof after tasting select barrels. Baked apples and cedar are the dominant aromas followed by apple, pear and wood notes accompanying the palette. Laird's is the first commercially licensed and oldest continuously-operated distillery in the United States, producing exceptional apple-based products since 1780. Best enjoyed neat in a snifter glass or mixed appropriately in craft cocktails.
Region: New Jersey
Country: United States
ABV: 40%
Shop Laird's 7 ½ year Old Apple Brandy on Provi
Christian Drouin Calvados Pays d'Auge VSOP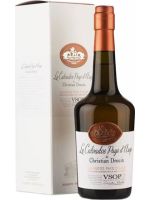 Christian Drouin Calvados Pays d'Auge VSOP is produced in Pays d'Auge using a mix of bitter, bitter-sweet, sweet and sharp apples. After double distillation, the distillate is then aged in small, previously-used casks, including casks that have previously aged wine. Showcasing over-ripe apple flavors with hints of baking spice, Christian Drouin Calvados Pays d'Auge VSOP has a complex yet elegant smoothness that displays more apple notes than the typical calvados.
Region: Normandy
Country: France
ABV: 40%
Shop Christian Drouin Calvados Pays d'Auge VSOP on Provi
Neversink Spirits Apple Brandy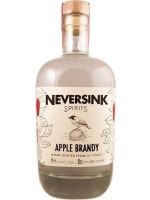 Neversink Spirits Apple Brandy is a clear hand-crafted brandy using apples from New York state and expresses the essence and complex characteristics of the fruits and the environment they're grown in. Layered flavors of cut green apples, spice, vanilla, wood and pear envelope the palette, making it a great after-dinner sipper or playing as an elemental ingredient in cocktails.
Region: New York
Country: United States
ABV: 40%
Shop Neversink Spirits Apply Brandy on Provi
Clear Creek 2 Year Apple Brandy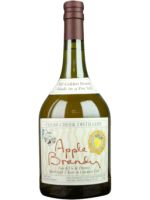 Clear Creek Distillery was founded in 1985 with a vision to use the bounty of the Pacific Northwest to create fruit-based spirits that rivaled the best of their European counterparts. Whole Golden Delicious apples from Yakima Valley, Oregon are crushed, fermented and aged in French Limousine oak barrels for two years, resulting in a complex, warm and sophisticated brandy. The amber-hued brandy stands best on its own or mixed in classic spirit-forward cocktails.
Region: Oregon
Country: United States
ABV: 40%
Shop Clear Creek 2 Year Apply Brandy