Did you hear that? That's the sound of ice tinkling in cocktail glasses.
As vaccination rates slowly increase across the nation, socializing is taking over social distancing. Bars and restaurants are eager to hop back into action as state and local governments safely ease COVID restrictions and Provi has the data to prove the boom is underway!
Nationwide: The Trend is Climbing Up!
As you can see from the chart above, the beginning of lockdown had a drastic affect on bar and restaurant sales. As the country entered Q2, the summer came on and some restrictions lifted, with outdoor seating likely playing a role in the sales spike. But as Q4 rolled around and the restrictions came back, so too did the pendulum swing of sales volume. But that was then and this is now! Looking at Q1 and Q2 of this year, we saw positive growth even in the cooler weather and see even steadier growth as we enter the summer months.
Let's dive into the markets of three major cities to see how the sales trends are curving up.
Author's note: Since state and city mandates have been fluid regarding COVID-19 restrictions, this information is only accurate as of June 24, 2021.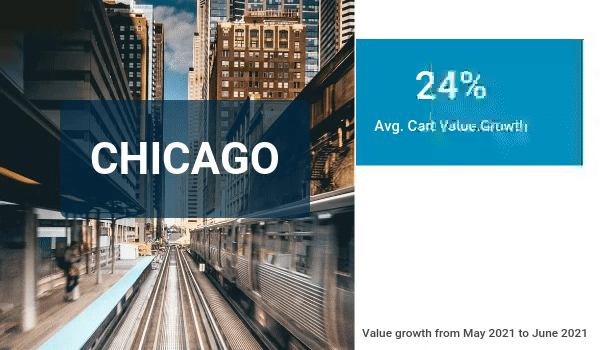 Chicago: Summer Sales Soar
Our first major city on the Provi data list is the Windy City itself, home to Provi's headquarters. On June 11, Chicago moved into Phase 5, becoming the largest major city to reopen in the US. This means bars and restaurants can now operate without capacity limits, mask mandates, social distancing or other restrictions. What does it mean for how those establishments are stocking up? Take a look:
Provi's data shows that Chicago's average cart value grew by 24% in June versus May, while average distributor order value increased by 21%. With nearly a quarter growth in one month, this proves that the summer rush is already in the works!
Provi sales data is showing that average cart values are up in June, with some even above pre-COVID levels.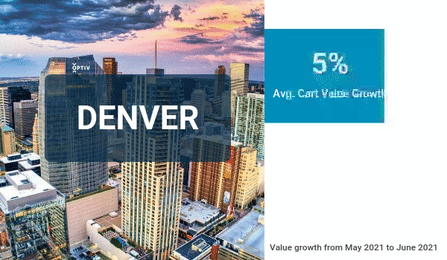 Denver: Sales are Taking Off
The Mile High City had a few extra reasons to feel elated at the start of June, as Denver kicked off the month by removing capacity limits in businesses like restaurants and bars. There will also no longer be a limit on party sizes. Unless the indoor event has more than 2000 people, you're safe knowing that you can imbibe freely without restrictions.
Provi reports that Denver's average cart value was up 5% in June compared to May, while average distributor order value was up 6%. Bars and restaurants are on their way to double digit order growth and the summer season has only just begun!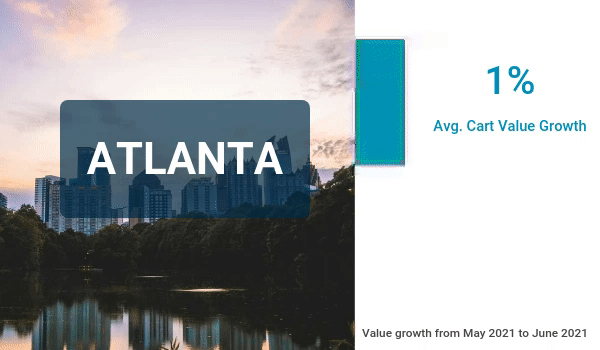 Atlanta: Slight Growth after Phase 4
If you're a Georgian living in the state's capital, then you can start heading to Atlanta Braves games with 41,000 other fans. And it's not just Truist Park bringing back larger capacities either—as of June 9, there have been increased capacity regulations for bars and restaurants (with some social distancing required). This is part of Atlanta's Phase 4 reopening plan and retailers are welcoming the summer change with open arms.
So, what does the Provi data show for Atlanta bars and restaurant orders?
The average cart value for Atlanta was up 3% in June compared to May, while average distributor order value was up 1%. This isn't new behavior for the citizens of Atlanta who have had lesser restrictions since the summer of 2020. So it might seem like small percentage bumps, but when you're talking about thousands of orders, those figures add up to large consumer sales projections.