Simplify the Way You Order from Capitol Beverage
Access catalogs and order from Capitol Beverage and 45+ other distributors in Minnesota, all in a single app.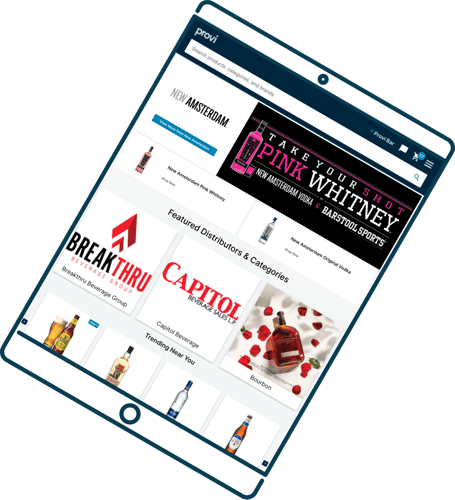 From Neighborhood Bars to National Chains, Provi Helps You Spend Less Time Ordering,and More Time on What Matters
Take the Disorder Out of Ordering

Access Over 100+ Distributor Catalogs 24/7
Search all product catalogs from every distributor in your market

Get Your Existing Deals
View front line pricing and have existing deals applied to the invoice by your rep

Order From All of Your Reps
Send orders and connect with all of your sales reps in a single click.
Why Beverage Buyers Use Provi
"Provi is a great tool, search engine and really improves my use of time. I really love Provi and everyone should use it."
"Easy to use and a big time saver. Instead of texting, emailing or calling... I hit send and each order goes to the correct rep... Done!"
Is there a cost?
No! Provi is a 100% free tool for you to use.
Does Provi replace my rep(s)?
No! Provi is replacing the texts, emails, voicemails, etc. that you send to say 'here's what I want'. Your order still goes directly to your rep.
Which distributors can I order from on Provi?
All of them! Our team collects all the product catalogs from every distributor in the state. In Colorado, we have over 100 distributors available for you to order from— including local self-distributed craft brands.
What about pricing and my deals?
Rest assured that you still get your deals and will be charged your normal price for the products you ordered.
If you see a lighting bolt next to the pricing in Provi, then we are getting that price from your distributor. Otherwise, the pricing displayed is our best estimate.
You will not be charged the price listed in Provi. Your invoice will reflect the traditional price you pay to your distributor.
Will I know when my rep(s) have seen my order?
Yes! You will receive a notification when each rep has viewed the order - transparency is a key benefit of Provi.
Will I receive an invoice and can I pay through Provi?
Your final invoice will still come from the distributor through its regular method. All payments are still handled between you and the distributor. You can request that your rep respond to the order with the final amount.
I just need to re-order... Do I have to search for products every time?
No! Lists are the best way to re-order, and save you a ton of time. Navigate there in the top right of the screen. You can create lists to include whichever products you'd like.
The Provi team is also happy to help build these for you! Send your order guide in Excel, PDF or Word.
We're always happy to help! Contact us via any of the communication methods below.


Email
Success@provi.com

Phone
312-883-9913

Live Chat
Click

on the lower
right-hand side of the screen