In the wide world of fine spirits, cognac is becoming an increasingly popular option. In fact, cognac's share of the spirits category has increased by 4% points so far this year on Provi when looking at Provi Pulse data from the same timeframe in 2020.
This sophisticated french spirit is sister spirit to brandy. But, there can be no doubt: cognac can be a rather complicated category. With the different designations, classifications, and regulations on how the spirit is made, getting into cognac can feel intimidating. But, most of these rules are indeed what makes cognac so consistently great. With this guide, you'll get all you need to know about cognac.


What is Cognac?
Cognac is a type of brandy. By definition, a brandy is any spirit made by distilling wine. What sets cognac apart is its GI (geographical indication). To be considered cognac, the spirit must be produced in the Cognac region of France and must also be distilled only from white wine.
The History of Cognac
Cognac dates back to the 16th century. It is said that Dutch settlers came to the modern-day Cognac region in France to obtain wood, salt, and wine. The journey back to Holland was so long, however, that preserving wine was a difficult task. By the time they arrived in Holland, the wine had spoiled.
To solve this problem, they distilled the wine once into eau de vie. This worked well enough for preservation, but did very little to improve (or even preserve) the overall flavor of the wine. Eventually, the Dutch started to perform a second distillation on the wine. This made for an even more elegant and delicious product. That is, more or less the birth of brandy -- and cognac.
Today, most of the world's cognac is produced by just a couple of very old companies. Martell is one popular cognac producer, and indeed is the world's oldest continually operating cognac brand. The company was founded in 1715. Hennessy -- another well known producer -- dates back to 1765. Rémy Martin is equally steeped in history, with its founding in 1724. Courvoisier is the last of the 'big four', and did not get their start until the (relatively) late year of 1828.
How is Cognac Made?
To produce cognac, white grapes are harvested and turned into wine. The producer then distills this wine twice (yes, it must be twice), and matures the distilled spirit in oak barrels. Cognac must be aged in French oak for a minimum of two years, but it is often matured for much, much longer.
After being aged, the spirit is still not cognac. Instead, it is considered eau de vie. Different eaux de vie are then blended together to create cognac. Without blending, eau de vie can never be cognac. The blending process is one of the hallmarks of creating cognac.
After blending these various eaux de vie, some cognacs are aged further.
Unlike many spirits, cognac production is limited to a specific season. Cognac season runs from October 1 through March 31. However, distillation cannot begin until the grapes have been harvested and turned into wine. This takes time, so most cognac distillation does not begin until the beginning of November.
Zones and Grapes for Cognac Production
All cognac is made in the Cognac region of France. However, within this region, there are six zones (or crus). Eaux de vie can be made from all of these regions, and different crus are often blended together to produce cognac. However, if a cru is indicated on a bottle of cognac, all of the eau de vie must be from that cru. The crus are:
Grande Champagne

Petite Champagne

Borderies

Fins Bois

Bons Bois

Bois Ordinaires/Bois à Terroirs
There are three different grapes used to make cognac: Ugni Blanc, Folle Blanche, and Colombard. However, Ugni Blanc is by far the prevailing grape, and is used in 98% of all cognac. All of these grapes are highly acidic, and the aging process is vital in reducing this unpleasant characteristic.
Classifications of Cognac
All cognacs are labeled with different classifications. Each classification represents a different amount of time spent aging. These labels are:
VS (Very Special): Aged at least two years. Over half of the cognac in the world is classified as VS.

VSOP (Very Special Old Pale): Must be aged over four years. This classification accounts for about 33% of all cognac in the world.

XO (Extra Old): Aged >10 years.

XXO (Extra Extra Old): Aged longer than 14 years.


There are also other, less popular classifications that you may see.
Supérieur, Cuvée Supérieure or Qualité Supérieure: Aged at least 3 years.

Vieille Réserve, Réserve Rare or Réserve Royale: Aged at least 5 years.

Napoléon, Très Vieille Réserve, Très Vieux, Héritage, Très Rare, Excellence or Suprême: Aged at least 6 years.
Drinking Cognac
Most cognac today is consumed mixed -- with water or other mixers. However, this is simply because most cognacs are VS or VSOP. These classifications do not carry the nuanced profiles or complexity to really justify being consumed neat.
XO and above-rated cognacs are generally enjoyed neat. A drop or two of water can also open up the flavors of these cognacs. When sipping cognac, take an approach similar to tasting wine or fine whiskeys. Because of the delicate aging and blending processes involved in cognac production, it is a very delicate and well-layered spirit. There really is a lot to enjoy. Cognac is often consumed neat in stemmed, tulip-shaped glasses. A Glencairn glass is acceptable as well, although a bit less traditional.
Cognac in Cocktails
In addition to being a fantastic sipping spirit, cognac is an important ingredient in several popular cocktails. The sweet, complex flavor lends well to traditional cocktail artistry, and is perfect as the centerpiece of a drink. It also works in tandem with other spirits and mixers in a more 'supporting' role.
The Sidecar
Probably the most famous cognac cocktail, the Sidecar is a classic option featuring citrus, cognac, and orange liqueur.
Ingredients
1 1/2 ounces cognac

3/4 ounce Cointreau

3/4 ounce lemon juice

Garnish: orange twist and sugar rim (optional)



Preparation
Rim a coupe glass with sugar, if using, and set aside.
Add the cognac, Cointreau, and fresh lemon juice to a shaker. Add ice and shake until well-chilled.
Strain into the prepared coupe glass.
Garnish with an orange twist.
The French Connection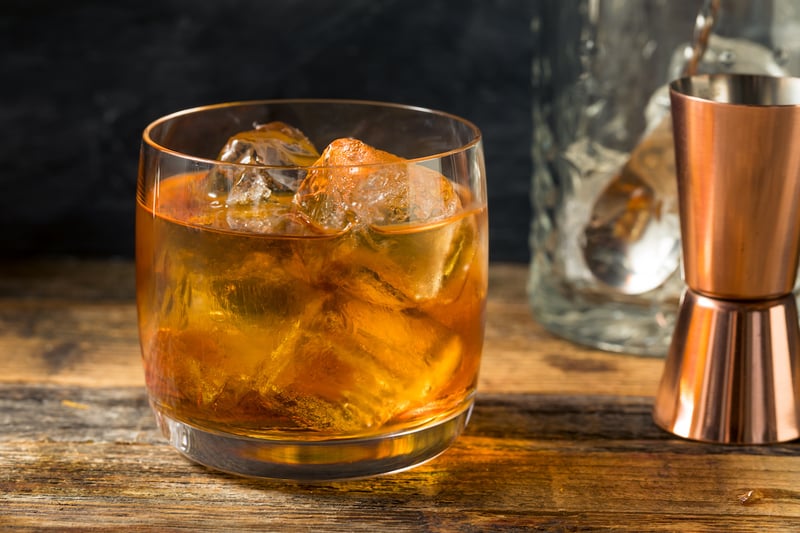 This two-ingredient cocktail is as simple as it is delicious.
Ingredients
1 1/2 ounces cognac

1 ounce amaretto



Preparation
Fill a rocks glass with ice.
Add the cognac and amaretto and stir briefly to combine.
Vieux Carré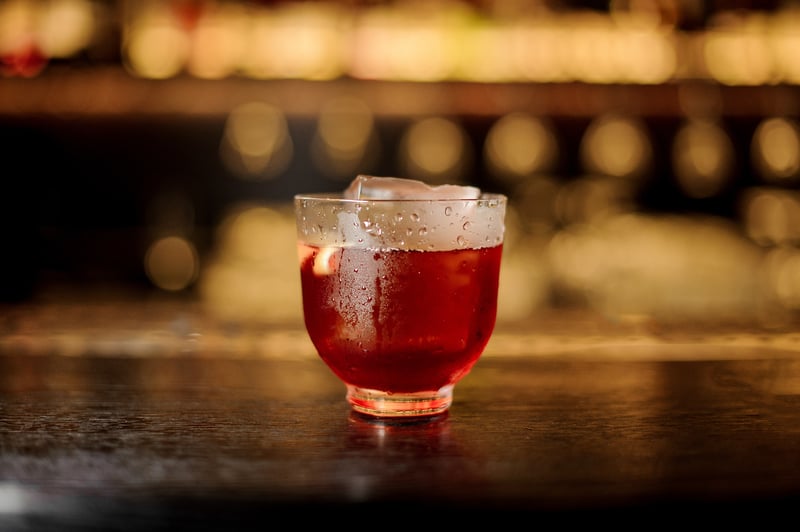 Originally hailing from New Orleans, the Vieux Carré is a rye-drenched cognac cocktail that's boozy and sweet.
Ingredients
3/4 ounce rye whiskey

3/4 ounce cognac

3/4 ounce sweet vermouth

2 teaspoons Benedictine liqueur

3-4 dashes pimento aromatic bitters



Preparation
Add the rye, cognac, sweet vermouth, Benedictine, and bitters into a mixing glass. Add ice and stir until well-chilled.
Strain into a rocks glass over fresh ice.
Garnish with a cherry, a lemon twist or both.